Our Services...
Portable Grinding Service
To help reduce the volume of waste piles, we offer our portable grinding service. Compared to burning or hauling your wood waste to the landfill, our portable grinding service is not only better for the environment but also creates a reusable organic product. We can also arrange for the ground product to be removed from your site to be recycled.
Materials such as trees, brush, stumps, pallets and other wood waste can be processed through our grinders. Customers can select their desired texture and sizing of the ground material.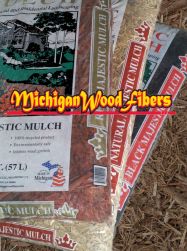 Custom Bagging Service
We offer a custom bagging service, to fit our customers many needs. We have over 19 years of bagging experience which keeps our prices competitive without sacrificing quality. Accurate bag volume and product quality is regularly monitored during the bagging process to ensure customer satisfaction.
Trucking Service
Our large fleet of trucks and trailers ensures our customers will receive their order promptly. Our walking floor trailers, flatbed trailers and van trailers are designed to meet our customers' needs no matter how big or small the load. We can deliver products directly to your job site or to your yard. Our load sizes are always accurate allowing us to keep an open and honest relationship with our customers.
Michigan Wood Fibers is always looking for new opportunities to haul products to help businesses meet their customer's needs as well. Corn, yard waste, wood pellets and many other products are always considered.